If You Can Do Composites Correctly, You Can Do Full Mouth Reconstruction!
Friday 1/28/2022
Time: 8:00 - 10:00 am
Course Code: 455RL
Cost: No Charge
Credits: 2 CE Hours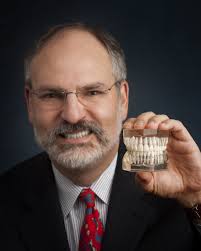 Jeffrey Hoos, DMD is a world-renowned practitioner and author of numerous articles. He has developed many innovative and exciting dental techniques including the patented H & H cordless impression method. Dr. Hoos graduated from Tufts University School of Dental Medicine with a DMD degree after receiving his MS degree in Biology from the University of Bridgeport and his BA degree in Zoology from Drew University. He has been involved with implant dentistry for the last 25 years and teaches implant dentistry courses. Dentists from around the world regularly visit his practice to learn how to implement his methods. He lectures extensively on practice management as well as implant and cosmetic dentistry. He recently celebrated his 41th anniversary in private group practice in Stratford, Connecticut and is consistently in the top 1% of the dental practices in the United States.
When a dentist completely understands the steps to create durable, long-lasting, composites: dentin bonding/sealing, stress-free build-ups, and proper occlusion, they have the building blocks for doing reconstruction cases. Understanding key basic advanced adhesion techniques, including immediate dentin sealing, resin coating, and stress-reduced layering enables a clinician to create strong durable bonds that protect the pulp & last. This course will discuss, review, and illustrate how to do these simple advanced adhesion techniques and use them for doing reconstruction cases.
After this course attendees will be able to:
Review the immediate dentin sealing and resin coating Technique
Explain a technique for doing stress-free composites
Understand occlusion principles
Restore mouths with functional understanding
Recommended Audience: Assistant, Dentist
The Kuraray Noritake grant has been applied to this course.
An invitation to participate in the Corporate Forums was provided to all companies exhibiting at Yankee. Participating companies have selected the speakers and topics for the sessions and paid all related expenses. The information and opinions presented are solely those of the speakers and the sponsoring companies and do not represent the opinions of, nor constitute endorsement by Yankee Dental Congress, the Massachusetts Dental Society and the co participating states.
OTHER COURSES BY:
OTHER COURSES ABOUT: